So here's an exercise that I've been wanting to do that will keep me from continuing my studies for another hour or so. It's weird that we're at the end of a decade when I distinctly remember the moment when 1999 became 2000. What this decade really gave me more than anything else, though, was metal, and a musical identity. For that reason, I'm making this a top ten metal albums of the 2000s list. Fleet Foxes, Tegan and Sara, Clutch, The Decemberists, and Flogging Molly would likely have had spots on this list but I decided to go the metal-only route. So here goes:
10. Immortal-
Sons of Northern Darkness
(2002)
My introduction to Norway's grimmest didn't come through their frostbitten black metal roots but from their epic blackened thrash maelstrom,
Sons of Northern Darkness
. Vastly underrated by purists, this album represents a perfect marriage of the corpse-painted fury of the early 90s and a very modern, well-produced heavy metal edge. Key tracks: "One By One", "Sons of Northern Darkness", "In My Kingdom Cold"
9. Halford-
Resurrection
(2000)
It's impossible to overstate how important this album was in my development as a heavy metal fan. Every song on the album is a winner, and the Metal God sounds better than he has since 1990. When it comes to pure heavy metal, there isn't a better album this decade.
Nostradamus
was cool, but this album will make you pine for Halford's "Breaking the Law" days. Key tracks: "Silent Screams", "Resurrection", "The One You Love To Hate"
8. Mouth of the Architect-
The Ties That Blind
(2006)
My love affair with this album started with some admitted home team bias. Mouth of the Architect are Dayton's biggest metal export not called Night Ranger, so naturally I had an affinity for them. But the more post-metal I listened to, I realized that this, one of my first post-metal records, was the best thing the scene produced. Syrupy riffs, shouted-from-the-next-room vocals, and a real prog rock sensibility (ex-guitarist Greg Lahm admits Yes, Mahavishnu Orchestra, and King Crimson were a constant presence during writing) make this one of the best albums of the decade. Fun fact: I'm getting a tattoo loosely based on this album art this coming summer. Key tracks: "Baobab", "No One Wished to Settle Here", "At Arms Length"
7. Iron Maiden-
Dance of Death
(2003)
It wouldn't be a heavy metal list without the greatest heavy metal band of all time on it, and the second album recorded after Bruce and Adrian rejoined the band is the best thing they've done since the Golden Era. This album is the least plagued by formula of their post-1992 output, too, and a youthful energy oozes out of the songs. And I do apologize for republishing the worst album art of all time. Key tracks: "Paschendale", "Journeyman", "Rainmaker"
6. Opeth-
Blackwater Park
(2001)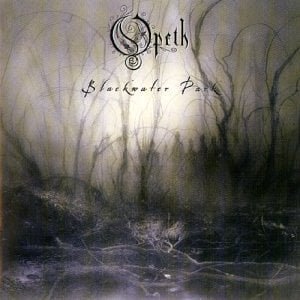 Every Opeth album is damn good, but on
Blackwater Park
literally everything went right. This is just a tour de force of prog metal awesomeness. The mellow parts are beautiful, the death metal parts are crushing, the transitions are seamless, and the songs are generally among the best that Opeth has done. Key tracks: "The Leper Affinity", "Blackwater Park", "Bleak"
5. Mastodon-
Blood Mountain
(2006)
If
Leviathan
got Mastodon off the ground in terms of popularity,
Blood Mountain
pushed them through the stratosphere and made them quite possibly the biggest band in metal. Which is fine, because the tunes back it up. This is also the crowning achievement of Mastodon as a musician's band, with all the members firing on all cylinders at their respective instruments. Key tracks: "Sleeping Giant", "Colony of Birchmen", "Siberian Divide"
4. Between the Buried and Me-
Colors
(2007)
In the hands of less capable bands, this album would have been a disaster. Essentially, Between the Buried and Me took as many riffs and genres as they could think of, threw them in a blender, and called it
Colors
. Regardless, this is undoubtedly one of the best albums of the decade. The band comfortably fuses all of its influences in a perfect storm of an album that I doubt they'll top. When Tommy Rogers screams "We will be remembered for this" in album closer "White Walls", he's fulfilling prophecy. Key tracks: "White Walls", "Foam Born", "Ants of the Sky"
3. Cobalt-
Gin
(2009)
Heavy. That's the best way to describe a black metal album this fucked up. An audio tribute to Ernest Hemingway and Hunter S. Thompson, this is the soundtrack to getting wasted in the woods in a rainstorm, alone, and trying to build a shelter for the night. It's a terrifying, sexually frustrated journey into the mind of its creators but also into the minds of all of us. While "black metal meets Tool" is a fair description of the sounds, it really has to be heard to be believed. Key tracks: "Gin", "A Starved Horror", "Arsonry"
2. Cynic-
Traced in Air
(2008)
This is an easy target for people who hate cold, calculated prog metal with lots of effects and crisp production, but what I've been struck by the hundreds of times I've listened to the album is that beneath all that, it has a lot of soul. Paul Masvidal's spiritual lyrics contribute a lot to that, but so does his soulful croon which has all but replaced the robot voices and death metal growls that dominated their 1994 debut. Unlike a lot of comparable prog metal albums,
Traced in Air
knows when to stop, and you're left wanting more when it ends. Key tracks: "The Space for This", "Adam's Murmur", "King of Those Who Know"
1. Mastodon- Leviathan (2004)

Well, here it is. The best metal album of the 2000s in my opinion. It's not a shocking choice, as it's probably the most critically acclaimed metal album of the decade as well, but there's nothing on it that doesn't rule. It's a solid slab of greatness, beginning to end. From Neil Fallon and Scott Kelly's guest vocal appearances to Brent Hinds' flirtation with his rockabilly background, from Brann Dailor's inhuman fills to Troy Sanders' inhuman shouts, and from the simple beauty of acoustic instrumental "Joseph Merrick" to the biggest, most epic piece the band has ever done, "Hearts Alive", this album is perfect. If you somehow haven't heard it yet, please do so. Key tracks: "Hearts Alive", "Blood and Thunder", "Iron Tusk"
What are your favorites from this decade? Let's start a debate here.